08 Mar

GOODS CAN BE PURCHASED ON PRICE, SERVICES MUST BE PURCHASED ON VALUE.

Most material goods of the same type or make, are identical and therefore can be reasonably compared on price.  For the better quality versions, you pay more, because you appreciate the pleasure of owning them and that they will last longer.

However, services cannot be cut price.  What you are paying for is expertise, experience, ability and quality of service from a skilled person.  Would you consider going to any of these services for a cut price?  Doctors, Dentists, Opticians, Solicitors, Accountants, Plumbers, Carpenters, Electricians, Decorators, Babysitters or even Tattoo Artists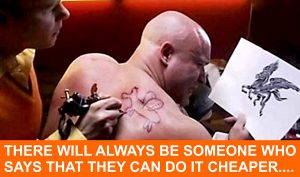 Would you consider it worth paying a bit less and accept a lower quality of service?  Almost certainly not.
And yet, when transacting, what is probably most peoples' largest financial investment, worth hundreds of thousands of pounds, namely your home, some will think that employing an agent, because their fees may be a few hundreds of pounds less, would prove a worthwhile saving!
Finding a potential buyer, with the help of technology, is just the start and probably the simplest part of the process.  But even before that, the advice on value is critical.  Ask too much and the property will not sell.  It will appear unappealing, ie. no-one seems to want it and can go 'stale' on the market.  Price it too low and you are selling yourself short and how would these losses compare with the few pounds that appeared to be being saved on another agent's discounted fees?
After a Buyer is found, the equally skilful part begins.  That is how to get the sale from initial agreement, through to legal completion, enabling you to move from this home and into your next one.
We won't go into the details now as to what is involved, but we will tell you more about this in a subsequent article, however this part of the transaction is extremely important.
The advice therefore, is to select a good, experienced agent with expertise and ideally, professional qualifications and then take their advice and guidance, from beginning to end.